Hey all, check out this new kit called "Debbie's Camp Hilaka" by Sherrie Piegdon from over at
Pixel Gypsy Designs
!!! Isn't it just fabulous!!!! I have so gotta use this beauty real soon! I really like all the elements; they are so realistic. This kit was inspired by Debbie, who is a CT over at
Pixel Gypsy Designs
. Actually, each of us CT members get to throw our color pallettes, ideas, and inspiration at Sherrie, and she is so graciously creating a kit for each of us, inspired by us. And you better believe these kits are going into the store!!! So go check them out!!!
Oh, wanted to remind you about the Product Retirement Sale going on over at Pixel Gypsy Designs also! You are going to get some great products at great prices, so don't forget to stop in the
Retirement
area of the shop. :)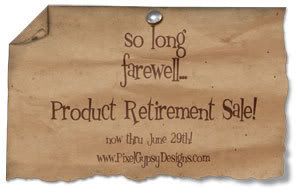 Now, on to a few of my latest LOs. This one is pics of my Emma enjoying some iced mocha at our new coffee shop in town. (Yep! It's decaf!!!) :) Ahhah... she is a coffe lover already...
And this is my Emma at the Wildreness Resort in the Dells last weekend. Emma's Girl Scout Troop had a get away there, and had a complete blast.
And this one that I created for my CT spot over at Pixel Gypsy Designs, for the AAM Challenge. It's certainly not too late too get in on the challenge... heck in the end you will have an awesome album about you and maybe you'll be lucky enough to win one of the many prizes!!! You can read all about the challenge
here
.
And this one is my LO for
Vera Lim's blog
challenge this week. I try to participate in her challenges as often as I can, because they inspire me in a different direction then my norm.
Full credits for the above LOs can be found
here
and
here
.
I guess that's it for now. I may be back yet this weekend, it's hard to say. We have our local festival this weekend, which is always so much fun and certainly keeps us busy, busy, busy!!! Tah! Tah! for now! :)